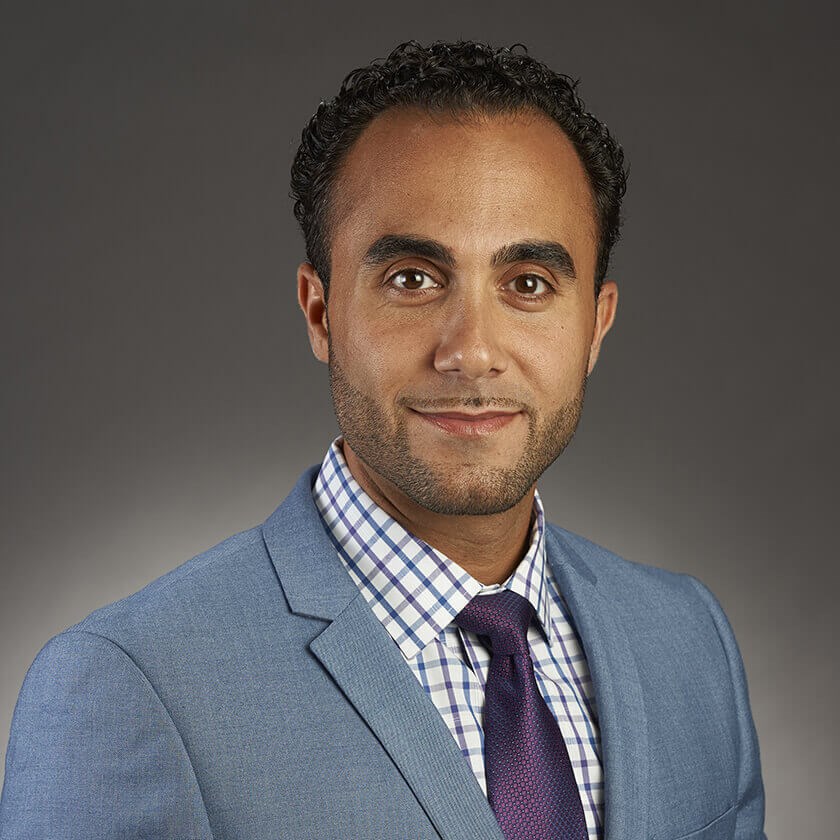 Dr. Sayegh is a board-certified ophthalmologist with Koch Eye Associates. He is a member of the American Academy of Ophthalmology, the American Optometric Association, the American Medical Association, and the American Society of Cataract and Refractive Surgery.
Dr. Sayegh's professional focus is on performing LASIK, PRK, and cataract surgery. Dr. Sayegh is a dedicated and highly skilled surgeon who remains at the top of his field by utilizing the latest surgical techniques and technology.
Dr. Sayegh completed his undergraduate work at Marist College in New York where he obtained a bachelor's degree with honors in biology. Dr. Sayegh was then awarded his doctor of osteopathic medicine degree with honors from Touro University of Osteopathic Medicine in Mare Island, CA. He completed his ophthalmology residency at Interfaith Medical Center in Brooklyn, NY and his surgical residency at St. John's Episcopal Hospital in Queens, NY. Following his residency, Dr. Sayegh joined Koch Eye Associates for fellowship training under the supervision of Dr. Paul Koch where he received extensive training in LASIK, PRK, and cataract surgery.
Medical Privileges
Reviews
"I can't say enough good things about this office. The staff is professional and friendly. The office itself is beautiful, clean, and comfortable. I had the Lasik procedure and couldn't be happier with the results. The staff takes the time to make sure you are informed about pre- and post-procedure care. My procedure was performed by Dr. Sayegh, with pre and post op care provided by Dr. Tran. Both doctors were easy to talk to and addressed any concerns I had. I would recommend this office to anyone looking in to having the Lasik procedure."
J.D.
Google
"Absolutely amazing experience!!! They truly deserve 10 out of 5 stars! Dr. Sayegh, Robin and the entire staff were so unbelievably calming, passionate, professional and excited (even more than I was!!) to change my life through Lasix. If you don't choose Koch Eye as your choice for Lasix you've made a mistake."
M.B.
Google
"September 16th I had my procedure for lasik. From the consult to the post op, I felt taken care of. Tracy and Natalie answered all my zany questions with grace and encouragement. I felt at ease with Rita and Dr. Sayegh before and during the procedure, the two techs in the procedure room were kind and gentle and I wish I had gotten their names. Dr. Bae did my consult and day after post op check up, she was kind, encouraging and informative. I was in tremendous pain for a few hours after, I miss timed my pain relief. I would highly recommend taking something *before* arriving at the center. It was a cross between a brain freeze and a migraine, after 5 hours it dissipated like it didn't even happen. Overall, I still can't believe I have 20/15 vision, and the team here helped the smooth transition of lasik. 12/10 highly recommend!"
C.
Google
"I had my LASIK procedure just over a month ago and could not be happier! The doctors, nurses and staff were friendly and compassionate. Dr Saje made me feel comfortable and at ease during the short procedure. I wish I had done this sooner!!"
M.P.
Google
"After yrs of thinking about it, I finally decided to get a consult at Koch for Lasik. I ended up having the PRK procedure, as I was not a candidate for Lasik. I am about 2 weeks post procedure, and I couldn't be happier w/ the results thus far. Thank you to Dr Sayegh who performed the quick procedure making me feel at ease and answering all my concerns clearly and thoroughly leaving nothing out whether I wanted to hear it or not! You are a perfectionist and I love that about you. Day of the procedure the entire staff was professional, fun and you can feel how passionate they are about what they do and work amazingly as a team! A BIG Thank you to Rita Uriati for being my rock throughout this process. You have been transparent and explained the pre and post procedure care in great detail leaving no surprises before, during and after the procedure. You have gone above and beyond for me and always there to answer my crazy calls! Highly Recommended incredible experience!!!"
A.C.
Google
Related Offers