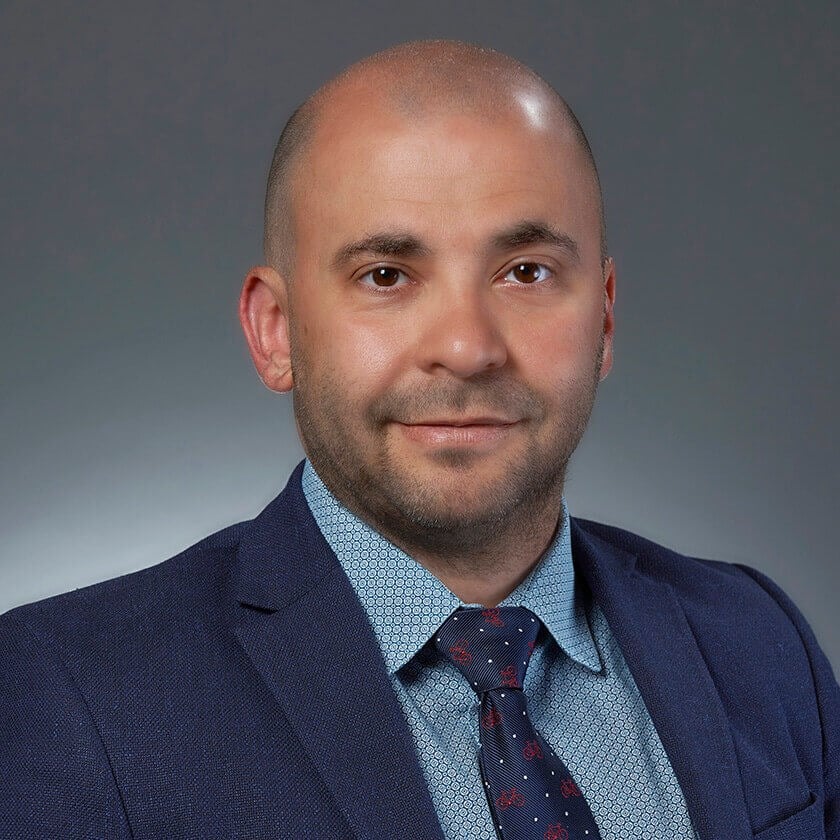 Board Certified Dr. Alex Gerber is a fellowship-trained ophthalmologist who currently serves as the medical director of St. James Surgery Center, Koch Eye Associates and Koch Eye LASIK and Aesthetics Center. He has been a speaker at the American Society of Cataract and Refractive Surgery, and his past work has been published in medical journals. He has previously served as the medical director of the Greater New Bedford Surgery Center, as well as one of the leading investigators in clinical trials ongoing at Koch Eye Associates. When not hard at work, he enjoys spending quality time with his wife, his two daughters, and his boxer. He has a strong interest in the most innovating and new techniques in his field, as well as new technology. He is fluent in Russian.
As an ophthalmologist specializing in cataract, refractive cataract, minimally invasive glaucoma surgery, and LASIK, Dr. Gerber sees patients for comprehensive and diagnostic eye exams and their surgical aftercare. He performs lens replacement surgery, laser cataract surgery, LASIK, and other types of surgical corneal reshaping. His expertise includes both bladeless (laser) and sutureless cataract surgery, as well as microinvasive glaucoma surgery.
Dr. Gerber completed his undergraduate studies cum laude at the State University of New York at Stony Brook in 2001 where he earned a bachelor's degree in biochemistry. He then pursued his medical degree at the New York College of Osteopathic Medicine and received honors in genetics studies. He went on to do his residency at St. John's Episcopal Hospital in Queens, NY where he became chief resident. During his fellowship at Koch Eye Associates, he received extensive training in cataract surgery, LASIK, and other types of refractive surgery under the supervision of Dr. Paul Koch.
Medical Privileges
Reviews
"Absolutely loved my results. I had moderate to high myopia -7.00 to -7.50 in both of my eyes and I was still a candidate for lasik. The procedure is definitely a bit nerve wracking but they walk through every step as they go, and the staff is very comforting. The entire procedure is maybe 10-15 minutes, hang in there, it is so worth it. I am less than 24 hours post op and I can see almost perfectly clear. I had some burning for about 4-5 hours after my procedure, the best way I can describe it is, it felt like I had been cutting onions. Uncomfortable but not unbearable. Dr. Gerber was recommended to me by a co worker, he pleasant and put me at ease answering all my questions in the consult, I also elected to have him do my procedure as well and he was fantastic. The front desk staff and techs are also all fabulous. If you have an HSA or FSA you can use it, and my VSP vision insurance also covered 15% of the procedure. Absolutely life changing for someone with a script that was a bad as mine! A small price to pay in the long run for amazing vision."
B.R.
Yelp
"Love love love this place! Dr. Gerber and Dr. Tran are awesome! Dr. Gerber did my lasik eye surgery and Dr. Tran did my consultation and follow-ups. Both are extremely intelligent, very personable, with great bedside manner. The doctors are also very punctual. I never had to wait long to be seen and my appointments never felt rushed. I recommend them to anyone considering lasik!"
A.N.
Google
"Excellent service from start to finish. I was able to have a consult and surgery in the same week. I met with two technicians before Dr. Gerber and everyone was open to answering my questions and addressing any concerns about the surgery. Recovery was as expected with some discomfort the first night which drastically improved by the next morning. Can't recommend highly enough."
K.L.
Google
"The staff was awesome caring about patient walk me through everything made me laugh inside I was scared Dr Alexander was amazing guided me right through great team work 5 stars Thank You very much Shirley Gaffney"
P.B.
Google
"I recently had cataract surgery at St James. Dr Alexandrou was fantastic. I was so pleased with all of my care. Dr Alexandrou is focused, professional and in my opinion, a master of his craft. My eyes are so much better. I highly recommend him!"
Anonymous
Healthgrades