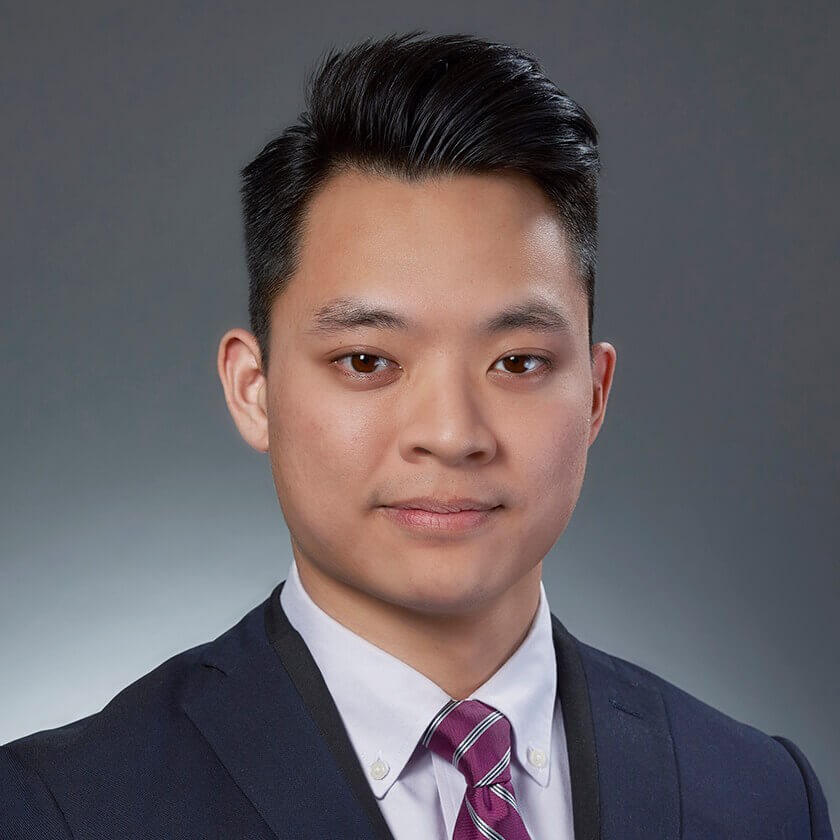 Dr. Tran is a board-certified primary care optometrist at Koch Eye Associates. He is a member of the American Optometric Association, the Massachusetts Optometric Association, and the Rhode Island Optometric Association. A native of New England, Dr. Tran grew up in Franklin, MA. He volunteers as a martial arts instructor, and his passion is to inspire his students to develop confidence and character. He enjoys being around good company and listening to and playing music.
Dr. Tran specializes in primary eye care, which encompasses comprehensive eye exams, treatment and management of ocular diseases, specialty contact lens fittings, and pediatric care. He also has thorough experience in the pre- and post-operative co-management of cataract and refractive surgery patients.
Dr. Tran graduated magna cum laude from the University of Massachusetts-Amherst with a Bachelor of Science in biology. He received his doctor of optometry degree from the New England College of Optometry in Boston, MA. Dr. Tran also completed extensive externships in Massachusetts. These included the Dorchester House Multi-Service Center, Tufts Children's Hospital, Perkins School for the Blind, the New England Eye Institute, and the VA Hospital of Lowell, MA.
Reviews
"I can't say enough good things about this office. The staff is professional and friendly. The office itself is beautiful, clean, and comfortable. I had the Lasik procedure and couldn't be happier with the results. The staff takes the time to make sure you are informed about pre- and post-procedure care. My procedure was performed by Dr. Sayegh, with pre and post op care provided by Dr. Tran. Both doctors were easy to talk to and addressed any concerns I had. I would recommend this office to anyone looking in to having the Lasik procedure."
J.D.
Google
"great personality, understands my condition and explains treatment in a manner that I can understand"
B.
Healthgrades
"So glad I chose Koch LASIK for my surgery. The staff were amazing in every way. From my consultation with Dr Tran to the day of my surgery it went so smoothly. On the day of my surgery I worked with Rita Uriati. She was awesome! She kept me calm and helped me through the whole process. Can't say enough about how professional and kind she was. It can be scary but she definitely helped me through it. Dr. Sayegh performed the surgery and home has the best bedside manor. He is calm and tells you every step of the way what he's doing and how long it will take. It actually went by super fast and I was worried for nothing. My eye sight is still perfect 2 years later. I waited to do this review until after I could say for sure that I have zero regrets. I would do it all over again if I had to. I'm so glad I chose Koch LASIK and I would recommend it to anyone considering LASIK surgery."
K.S.
Google
"September 16th I had my procedure for lasik. From the consult to the post op, I felt taken care of. Tracy and Natalie answered all my zany questions with grace and encouragement. I felt at ease with Rita and Dr. Sayegh before and during the procedure, the two techs in the procedure room were kind and gentle and I wish I had gotten their names. Dr. Bae did my consult and day after post op check up, she was kind, encouraging and informative. I was in tremendous pain for a few hours after, I miss timed my pain relief. I would highly recommend taking something *before* arriving at the center. It was a cross between a brain freeze and a migraine, after 5 hours it dissipated like it didn't even happen. Overall, I still can't believe I have 20/15 vision, and the team here helped the smooth transition of lasik. 12/10 highly recommend!"
C.
Google
"After yrs of thinking about it, I finally decided to get a consult at Koch for Lasik. I ended up having the PRK procedure, as I was not a candidate for Lasik. I am about 2 weeks post procedure, and I couldn't be happier w/ the results thus far. Thank you to Dr Sayegh who performed the quick procedure making me feel at ease and answering all my concerns clearly and thoroughly leaving nothing out whether I wanted to hear it or not! You are a perfectionist and I love that about you. Day of the procedure the entire staff was professional, fun and you can feel how passionate they are about what they do and work amazingly as a team! A BIG Thank you to Rita Uriati for being my rock throughout this process. You have been transparent and explained the pre and post procedure care in great detail leaving no surprises before, during and after the procedure. You have gone above and beyond for me and always there to answer my crazy calls! Highly Recommended incredible experience!!!"
A.C.
Google