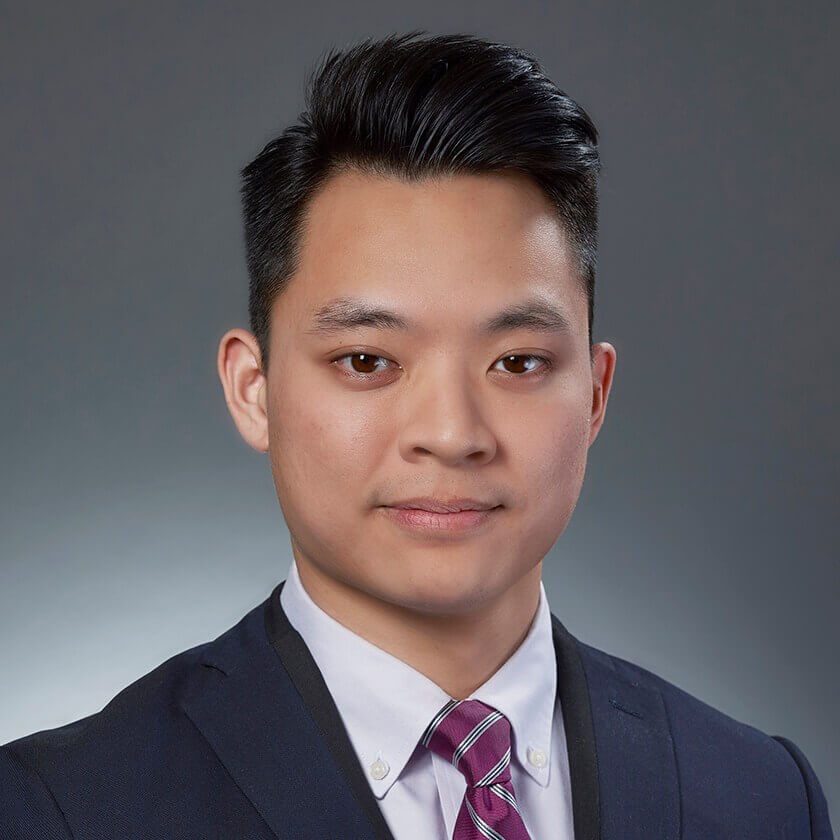 Dr. Tran is a board-certified primary care optometrist at Koch Eye Associates. He is a member of the American Optometric Association, the Massachusetts Optometric Association, and the Rhode Island Optometric Association. A native of New England, Dr. Tran grew up in Franklin, MA. He volunteers as a martial arts instructor, and his passion is to inspire his students to develop confidence and character. He enjoys being around good company and listening to and playing music.
Dr. Tran specializes in primary eye care, which encompasses comprehensive eye exams, treatment and management of ocular diseases, specialty contact lens fittings, and pediatric care. He also has thorough experience in the pre- and post-operative co-management of cataract and refractive surgery patients.
Dr. Tran graduated magna cum laude from the University of Massachusetts-Amherst with a Bachelor of Science in biology. He received his doctor of optometry degree from the New England College of Optometry in Boston, MA. Dr. Tran also completed extensive externships in Massachusetts. These included the Dorchester House Multi-Service Center, Tufts Children's Hospital, Perkins School for the Blind, the New England Eye Institute, and the VA Hospital of Lowell, MA.
Reviews
"I can't say enough good things about this office. The staff is professional and friendly. The office itself is beautiful, clean, and comfortable. I had the Lasik procedure and couldn't be happier with the results. The staff takes the time to make sure you are informed about pre- and post-procedure care. My procedure was performed by Dr. Sayegh, with pre and post op care provided by Dr. Tran. Both doctors were easy to talk to and addressed any concerns I had. I would recommend this office to anyone looking in to having the Lasik procedure."
J.D.
Google
"Koch Lasik is the place to go!!! The office is beautiful and Nikki, the receptionist is very knowledgeable and prepares you for exactly the procedure you're having done! Great experience! Dr. Tran is the best!"
K.E.
Google
"Dr. Sayegh, Dr. Tran, Rita, Crystal and the whole team at the Lasik center in Cranston were great! They made the whole experience so comfortable and enjoyable and the best part is now I can see without glasses! Highly recommended, excellent facility and people."
K.R.
Facebook
"Dr. Sayegh, Dr. Tran and their entire staff were amazing. They all made me feel comfortable and prepared me through my entire process of lasik surgery and made it a great experience. They all were very knowledgeable and quick to answer any questions i had. I highly recommend getting lasik done at Koch. I wish i had gotten it done years ago."
A.P.
Facebook
"I'll begin this review by explaining that I haven't ever been to an eye doctor before. Even though I pay for supplemental vision insurance through my employer, I thought the only people who needed to go to the eye doctor were people who needed or wore glasses. Here's the PSA part of the review: That's not true, it is recommended that people see an eye doctor every one to two years -  even if they are not experiencing any concerns. So, now you know. I had been experiencing watery, itchy eyes for a few months and though it was just allergy related but decided I should stop complaining about it and finally go see a doctor to get an actual answer. I was terrified to go to my first visit and had no idea what to expect. I called Koch Eye based on a recommendation from a friend and because of how close it is to where I work. I'll be honest, the waiting area was cluttered and outdated and I almost psyched myself out from checking in for my appointment based on my first impression of the office. But before I could turn around to exit, the person working behind the desk, came out of the back and greeted me. She checked me in, completed my new patient paperwork electronically and brought me in to the exam room. The staff was warm and welcoming and made me feel very comfortable. Dr. Bea (pronounced bay) explained what she would be doing and what I could expect to feel as she added drops and dyes to my eyes. She performed a series of tests and took a good look in my eyes after they were dilated. Dr Bea was really easy to work with and even though I was nervous about all of the equipment and scary looking old-timey mechanical gadgets she was using, she kept me comfortable and at ease. I work in technology so the doctor administered an additional test that checked how my vision responded when items were close up and made a recommendation that I may benefit from wearing transition glasses at work or when I began experiencing eye fatigue from staring at a screen or tablet for extended periods of time. She also wrote out a plan to help manage my dry and itchy eyes which has helped tremendously. While I don't have any other experiences to compare this one with, I would recommend Dr Bea and I look forward to seeing her next year."
K.S.
Yelp